WWF WrestleMania – The Arcade Game Online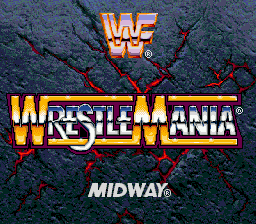 Descrição

WWF Wrestlemania: The Arcade Game funde as personalidades e a ação dos populares personagens do WWF TV com um jogo de luta no estilo Mortal Kombat. Este título apresenta gráficos digitalizados de 8 superstars da WWF: Doink, Razor Ramon, Bret "Hit Man" Hart, Shawn Michaels, O Undertaker, Yokozuna, Bam Bam Bigelow e Lex Luger.

Embora apresentado como um título de wrestling, este jogo é estruturado como um lutador de um contra um, com características de movimentos especiais over-the-top característicos do WWF. Cada partida é dividida em uma série de rodadas, muito parecido com um jogo de luta. Em vez de cada rodada terminar em um KO, ela simplesmente termina quando o jogador força o (s) outro (s) lutador (es) a cair reduzindo seu medidor de energia. Os modos de jogo incluem o modo de arcada para um só jogador, o modo de torneio e o modo versus para o modo multijogador um-contra-um.