Roblox: Super Power Training Simulator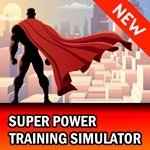 Descrição

💥 Welcome to Superpowers Training Simulator! 💥
👊🏻 Train your Fists and punch like Superman!
💪🏻 Train your Body and become Invincible!
✨ Train your mind to achieve psychic powers!
⚡️ Train your speed to the point of teleportation!
☄️ Take the path of Superhero or Supervillain!
🏆 Compete in Global Leaderboards, and much more!