Vote Agora:
(Ainda sem classificações)
Loading...
Play Bomberman Selection GBC Game Rom
SOBRE O JOGO
Jogos Classicos Jogos de Açao e Aventura Jogos de Agilidade Jogos de Bomberman Jogos do Game Boy Advance Jogos Famosos Luiz Felipe Souto 03 abr , 2017 0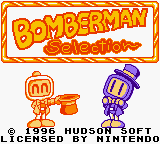 Play Bomberman Selection online with Game Boy Color browser emulation for free! Bomberman Selection (GBC) game rom is loaded with features in our flash, java and rgr plugin emulators. Nothing to configure, we've done it for you!
Jogos Relacionados