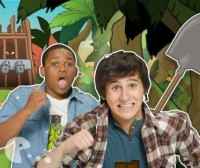 Nome do Jogo:
Pair of Kings Dig and Ditch
Descrição do Jogo:
Brinque com o par de reis do Disney Channel e desenterre as chaves para resgatar Mikayla, que foi sequestrada na selva. Evite as pessoas de tarântula que vão persegui-lo pela selva.
Como Jogar :
Use as setas para mover.