Vote Agora:
(Ainda sem classificações)
Loading...
Battle for the Galaxy
SOBRE O JOGO
Jogos 3D Jogos de Agilidade Jogos de Estratégia Jogos de Guerra Jogos de Habilidade Jogos de Luta Jogos de Tiro Jogos Famosos Jogos Mmorpg Jogos Multiplayer Marcelo Nascimento 04 abr , 2016 0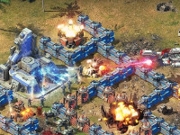 Battle for the Galaxy is an interesting strategy in which you build bases, look for natural resources and train soldiers who will defend as well as attack. Try to destroy as many buildings at the enemy base as possible and also steal what you could use. If you don't want to fight on your own, you can cooperate with other players and be on top of all the charts.
Jogos Relacionados