Vote Agora:
(Ainda sem classificações)
Loading...
Antman and The Wasp: Attack of the Robots
SOBRE O JOGO
Jogos da Marvel Jogos de Açao e Aventura Jogos de Desenhos Jogos de Luta Jogos Famosos Luiz Felipe Souto 20 ago , 2018 0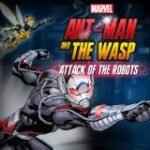 Os robôs invadiram o laboratório do Homem Formiga! Ajude Hank Pym e a Vespa a destruírem robôs com as habilidades especiais do Homem Formiga. Ataque os inimigos para acabar com eles, encolha o Homem Formiga e entre no robô para destruir a CPU dele.
Jogos Relacionados