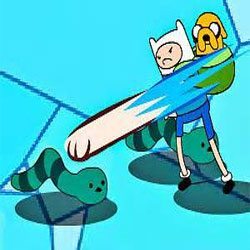 Jogando :: Adventure Time – Break The Worm – Play Game Online
Sobre o jogo ::
Luta seu modo fora do sonho freaky de Finn e de Jake! Derrote King Worm e parar seus poderes de controle da mente em Adventure Time - Break The Worm! Navegue seu caminho através do mundo bizarro e derrota King Worm e sua legião!

Adventure Time Break O Worm é uma ação de rolagem lateral batida acima do jogo baseado no popular programa de TV Cartoon Adventure Time. Neste jogo, Finn e Jake estão presos em um mundo de sonho controlado pelo poderoso King Worm. Você deve derrotar os worms controle da mente e King Worm-se para parar o sonho freaky e voltar à realidade. Ponta, pontapé, e atropelar os vermes! Caixas de presente da ruptura e obtenha os artigos para dentro! Diverta-se!